Semi-elliptical Leaf Spring

Suspension System

EII

Emission Standard Compliant

650 Nm

Maximum Torque

Cummins B180 20

Engine
LPT 1518
Introduce the powerful and versatile Tata LPT 1518 & 1518 Sleeper Cab Cargo Truck to your fleet. It comes equipped with a Cummins B180 20 water-cooled direct injection turbocharged intercooled diesel engine. With a maximum power output of 176.9 HP at 2500 rpm and a maximum torque of 650 nm, this truck delivers the performance you need.
The LPT 1518 and 1518 Sleep Cab Cargo Truck comes equipped with a full air dual circuit braking system with S-Cam and ABS. This advanced braking system ensures reliable and responsive braking. The ABS (Anti-lock Braking System) further enhances control and stability during braking. The suspension system of the LPT 1518 features a semi-elliptical type design at both the front and rear.
Water-Cooled Direct Injection Turbocharged Intercooled Diesel Engine
177 HP Maximum Power
Tata G 750/6-OA, 6F+1 R Gearbox
Full Air Dual circuit – S-Cam with ABS Brake System
Built to handle moderate cargo loads, this truck is designed with practicality and efficiency in mind. It offers ample space and storage capacity to accommodate a variety of goods and materials, making it suitable for various industries such as logistics, delivery services, and more. With its reliable performance and sturdy built, you can rely on the Tata Motors LPT 1518 to get the job done.
Features designed for

per

formance and profits

Flat Torque Curve
Advantage
Lesser Gear Shift
Benefit
Constant Torque for Wider RPM Range, High Fuel Economy
,
Reliable Agrregates e.g, Cummins Engine, Tata Gear Box
Advantage
World Class Technology
,
Better Grade Restartibility
Benefit
Suited for Tough Road conditions
,
Ergonomic Cabin
Advantage
Lesser Fatigue for Driver
Benefit
Longer Trip Durations
,
Availaibility of Service Parts
Advantage
Ease of Servicability
01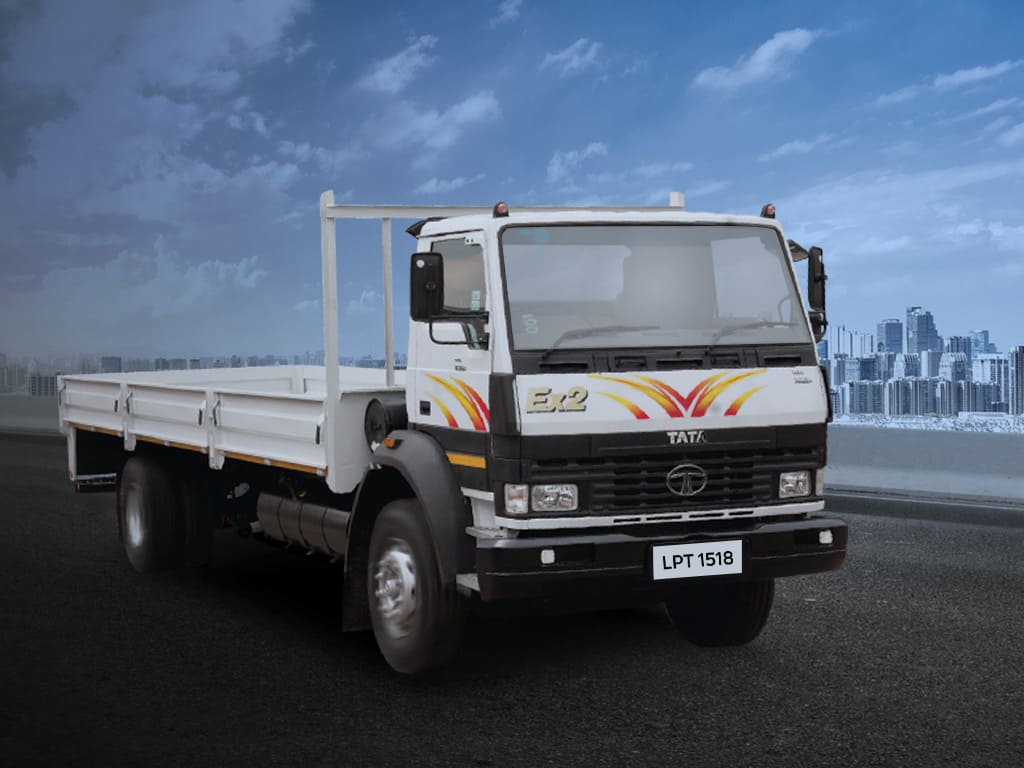 LPT 1518
spe

cifications
Engine

CUMMINS B180 20

Engine Type

Water cooled direct injection Turbocharged, intercooled diesel engine

Engine Capacity

5883 cc

Engine Power

176.9 hp at 2500 rpm

Max Speed

105

Emission

E II

Torque

650 Nm @1500 rpm

Gradeability

31% 14900 kg GVW 22% - 21400 kg GCW -with Trailer)

Gear Box

TATA G 750/6-OA, 6F+1 R

Clutch

380

Brakes

Full Air Dual circuit - S Cam with ABS

Suspension

Semi elliptical leaf spring at front and rear

Tyre Size

11R22.5

Axle - Rear

RA-109RR

Axle Final ratio

5.87

Wheelbase

5195

Ground Clearance

225

Turning Circle Radius

20.8

GVW

14900

Kerb Weight

5875

Max Permissible FAW

6000

Max Permissible RAW

9000

Fuel Tank Capacity

350

Cabin Ventilation

Non-AC
Dealer
loc

ator
Aztec Trading
81 Newcastle Rd, Ladysmith, 3370, South Africa
Blackwood Hodge
Stand No 4917 Corner Hobbs and Simon Mazorodze Road | Harare | Zimbabwe
Commercial Motors (Pty) Ltd (Tata Bostwana)
Plot 10038 Corner Nelson Mandela Drive and Kubu Road Broadhurst Industrial Site, Gaborone, Botswana
Cordoba Motors
71/73 Aberdare Drive, Phoenix, Industrial Park, Durban
Eastvaal Motors (Pty) Ltd T/A Tata Witbank
109 Mandela St, Witbank, Emalahleni, 1035, South Africa
ELT
101 Turffontein Rd, Glenesk, Johannesburg, 2197
Fleet Wise(Tata Port Elizabeth)
60 Paterson Rd, North End, Port Elizabeth, 6001
FPN Visser Ondernemings Bk(Tata Bethlehem)
Plot 94, Eden Small Holdings, Bethlehem, 9700
Kimberly Pit Stop CC T/A Tata Kimberly
81 Long St, Albertynshof, Kimberley, 8301
Philip Motors
117 Scholtz St, Lichtenburg, 2740, South Africa
Pollard Family Trust
Sunnyside farm, Aliwal North, 9750, South Africa
RBT
312 Voortrekker Rd, Brakpan, 1540
Siasign (Pty) Ltd T/A PTA
9 Dewar street, Pretoria
Tata Bloemfontein
32 Hartley St, Hamilton, Bloemfontein, 9301
Tata Brits
R511, Plot 30, Beethoven Street, Melodie, Hartbeespoort, 0240, South Africa
Tata Ermelo
4 Beyers Rd, Ermelo, 2351
Tata George
17 Rand St, George Industria, George, 6536
Tata Groblersdal
2 Eind St, Groblersdal, 0470
Tata international Cape town
3 Mobile Road, Airport industria 2,Matroosfontein,Cape Town
Tata International Durban
48 Westgate Pl, Westmead, Durban, 3608
Tata International Nelspruit
15 Savina Close, Stand 548, Rocky Drift, Mbombela, 1240
Tata International Polokwane
63 19th Avenue, Industria, Polokwane, 0699
Tata Klerksdorp
12 Neutron Rd Uraniaville Klerksdorp
Tata Langlaagte
Corner Main Reef & Link Roads, Langlaagte, 2092
Tata Newlands
151 Main St, Newlands, Randburg, 2092
Tata Northwest
12 Neutron Street, Uraniaville, Klerksdorp
Tata Richardsbay
28 Ceramic Curve, Alton, Richards Bay, 3900, South Africa
Tata Silverton
322 Dykor St, Silverton, Pretoria, 0184
Tata Swaziland
Portion 6, lot 443, Matsapha Industrial Sites, Swaziland
Tata Vryburg
208 Market Street, Vryburg
Tata Welkom
14 1st street Voorspoed Welkom
Tony's Truck Center
27 Riebeeck St Paglande Worcester 6849
Truck Corp
10 Signal Cres, Montague Gardens, Cape Town, 7441
Turners Fleet
45 Halifax Rd, Pinetown, New Germany, 3600
Union diesal
7543 Bells Rd, Queenstown, 5320
Vaal Tata
6 Willow St, Meyerton Park (Farms), Meyerton, 1961
Aztec Trading
81 Newcastle Rd, Ladysmith, 3370, South Africa
Fleet Wise(Tata Port Elizabeth)
Fleet Wise(Tata Port Elizabeth)
60 Paterson Rd, North End, Port Elizabeth, 6001
Vaal Tata
6 Willow St, Meyerton Park (Farms), Meyerton, 1961
RBT
312 Voortrekker Rd, Brakpan, 1540
Tata Silverton
322 Dykor St, Silverton, Pretoria, 0184
Tata International Durban
Tata International Durban
48 Westgate Pl, Westmead, Durban, 3608
Tata Vryburg
208 Market Street, Vryburg
Tata Richardsbay
28 Ceramic Curve, Alton, Richards Bay, 3900, South Africa
Tata Swaziland
Portion 6, lot 443, Matsapha Industrial Sites, Swaziland
Tata Langlaagte
Corner Main Reef & Link Roads, Langlaagte, 2092
Tata George
17 Rand St, George Industria, George, 6536
Truck Corp
10 Signal Cres, Montague Gardens, Cape Town, 7441
Philip Motors
117 Scholtz St, Lichtenburg, 2740, South Africa
Tata Ermelo
4 Beyers Rd, Ermelo, 2351
Tata Brits
R511, Plot 30, Beethoven Street, Melodie, Hartbeespoort, 0240, South Africa
Tata Northwest
12 Neutron Street, Uraniaville, Klerksdorp
Pollard Family Trust
Sunnyside farm, Aliwal North, 9750, South Africa
Tony's Truck Center
27 Riebeeck St Paglande Worcester 6849
Tata Welkom
14 1st street Voorspoed Welkom
Commercial Motors (Pty) Ltd (Tata Bostwana)
Commercial Motors (Pty) Ltd (Tata Bostwana)
Plot 10038 Corner Nelson Mandela Drive and Kubu Road Broadhurst Industrial Site, Gaborone, Botswana
Eastvaal Motors (Pty) Ltd T/A Tata Witbank
Eastvaal Motors (Pty) Ltd T/A Tata Witbank
109 Mandela St, Witbank, Emalahleni, 1035, South Africa
Kimberly Pit Stop CC T/A Tata Kimberly
Kimberly Pit Stop CC T/A Tata Kimberly
81 Long St, Albertynshof, Kimberley, 8301
Siasign (Pty) Ltd T/A PTA
Siasign (Pty) Ltd T/A PTA
FPN Visser Ondernemings Bk(Tata Bethlehem)
FPN Visser Ondernemings Bk(Tata Bethlehem)
Plot 94, Eden Small Holdings, Bethlehem, 9700
Tata International Nelspruit
Tata International Nelspruit
15 Savina Close, Stand 548, Rocky Drift, Mbombela, 1240
Tata International Polokwane
Tata International Polokwane
63 19th Avenue, Industria, Polokwane, 0699
Cordoba Motors
71/73 Aberdare Drive, Phoenix, Industrial Park, Durban
Tata Newlands
151 Main St, Newlands, Randburg, 2092
Tata Groblersdal
2 Eind St, Groblersdal, 0470
Blackwood Hodge
Stand No 4917 Corner Hobbs and Simon Mazorodze Road | Harare | Zimbabwe
Tata Klerksdorp
12 Neutron Rd Uraniaville Klerksdorp
ELT
101 Turffontein Rd, Glenesk, Johannesburg, 2197
Tata international Cape town
Tata international Cape town
3 Mobile Road, Airport industria 2,Matroosfontein,Cape Town
Turners Fleet
45 Halifax Rd, Pinetown, New Germany, 3600
Tata Bloemfontein
32 Hartley St, Hamilton, Bloemfontein, 9301
Union diesal
7543 Bells Rd, Queenstown, 5320